Robert M. Helfend has been honored a number of times throughout his career for his skill in the courtroom.
Since 1984, Mr. Helfend has exclusively practiced criminal defense, serving clients throughout the Los Angeles area. He did his undergraduate work at the University of California-Berkeley and earned his Juris Doctorate from Pepperdine. Since then, he has successfully defended more than 4,000 cases — everything from misdemeanors to major felonies.
Most recently, Mr. Helfend has been recognized by:
The National Trial Lawyers Association
The National Trial Lawyers Association named Mr. Helfend as one of its Top 100 Trial Lawyers in 2015.
The Top 100 list is one of the most exclusive honors in the field. Selection is based on a thorough, multi-phase process that includes peer nominations and third-party research. Membership is extended only to the select few of the most qualified attorneys from each state or region who demonstrate superior qualifications of leadership, reputation, influence, stature and public profile measured by objective and uniformly applied standards in compliance with state bar and national Rule 4-7.
Lead Counsel
Lead Counsel is a consumer advocacy service provided by Thomson Reuters, which verifies the credentials, case histories and ethics of trial attorneys.
In order to maintain a Lead Counsel rating, an attorney must:
Have significant case experience in the courtroom.
Receive multiple recommendations from his or her peers.
Have no record of censure with his or her state bar association.
Robert M. Helfend has consistently maintained his status as a Lead Counsel Rated Attorney since 2013, earning special accolades for a "Spotless Record."
Noticed – Expert Network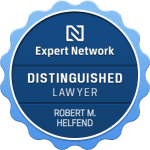 In 2018, Robert M. Helfend was recognized as a Distinguished Lawyer by Noticed's Expert Network, an exclusive, invitation-only networking group for professionals.
This award was based on a review of client ratings, dozens of recognitions and accomplishments achieved throughout his career. Noticed highlighted Mr. Helfend's role as a thought leader within the industry and the extensive work he has done to defend clients accused of drug crimes.